Beyond the Bechdel Test: 'Pretty Little Liars' (ABC Family)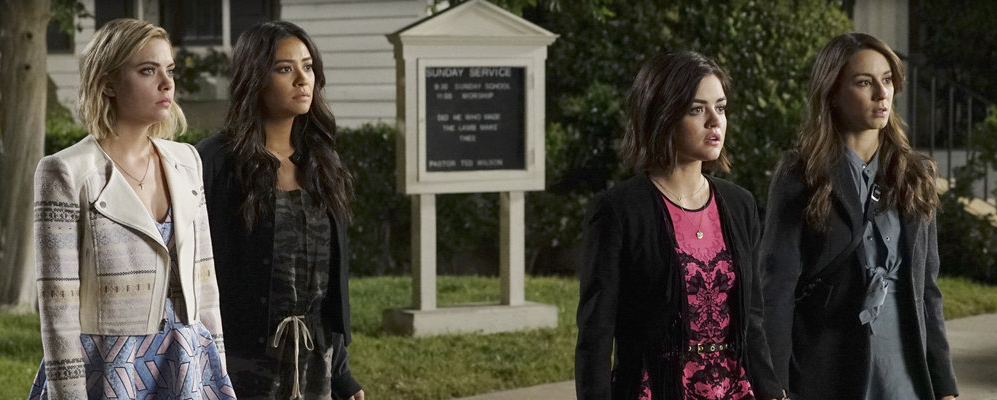 Credit: ABC Family
By JORDAN ECARMA
This column is what happens when you're a conservative feminist who loves movies. The Bechdel test is pretty basic: Does this movie have a scene where two women with names talk about something other than a guy? The point of the test is not "movies that pass this are feminist"—it's "this is the absolute base point of whether or not women are their own people in this movie." I attempt to go a little further each week with a deeper analysis.
I decided to change things up this week and write about a TV show. Why?
Because a friend started watching "Pretty Little Liars" for the first time and got me hooked again. I'm way behind (in season 3), so we'll see if I catch up by the time the second half of the sixth season kicks off in January. Season 6B will feature a new opening title sequence as well as (spoiler alert) a major time jump that puts the liars five years after high school graduation.
The show is first and foremost just a lot of fun: an all-around strong cast (wearing a wardrobe to die for, sometimes literally), more or less relateable high school drama mixed with serious supernatural angst and of course, the four leads themselves. You'll have to suspend your sense of reality, considering how long the girls were supposed to be still in high school, but it's totally worth it.
But here's my real question now that the world of Rosewood has drawn me back in: Why do young women love "Pretty Little Liars"?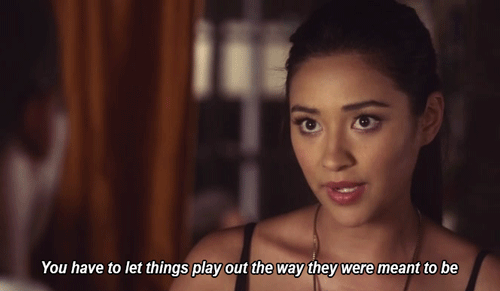 "Pretty Little Liars" by the numbers
In an increasingly competitive TV world, "Pretty Little Liars" has enjoyed a long run and still seems to be going strong—ABC Family announced last year that the show has been renewed through season 7. Even if that ends up being the last season, it would put "Pretty Little Liars" up there with other beloved TV shows starring women: "Gilmore Girls," which had seven seasons; "Sex in the City," which ran for six; and "Charmed," which made it to eight.
"Pretty Little Liars" hit a two-year high for ratings over the summer with its big-reveal finale, which brought in 3.09 million viewers, according to Nielsen. The finale also accounted for half of all tweets about TV shows; viewers sent more than 1.6 million tweets about the finale to make it the No. 2 most tweeted cable TV series episode on record (an earlier "Pretty Little Liars" episode is No. 1).
Which liar are you?
"Pretty Little Liars" has its fair share of male characters and romantic storylines. But it's clear in every episode that the four female leads are the real draw. They have distinct personalities that become more nuanced as the story develops: Spencer the type A, Hanna the comic, Aria the romantic, Emily the sweetheart. Similar to the "Sex and the City" cast, these four characters give women a way to see themselves in the show (I'm totally a Spencer in case you were wondering).
There's something subtly feminist in the various roles each girl plays during the liars' journey to uncover A's identity while keeping each other and the people important to them safe. They have their moments of being damsels in distress—but they're also the heroes of the story and sometimes even the villains. Spencer, Emily, Aria and Hanna call the shots and drive the story.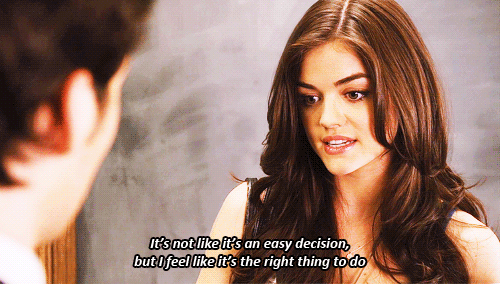 Like "Charmed" and "Gilmore Girls," the show emphasizes female friendships and family ties over romantic relationships. In the first season, Hanna's boyfriend breaks up with her because of a decision she makes to help her mom (obviously, A is pulling the strings in this scenario). Hanna can't explain her decision, so she knows she's essentially sacrificing her relationship to save her mom.
When it comes to friendship, the four leads have their fair share of arguments and strain, but a genuine bond holds them together. This isn't an "I love you this week but next week we'll be back to hating each other" TV friendship (see Serena and Blair of "Gossip Girl"); it's a real tie that underpins the show. "Pretty Little Liars" wouldn't work without it.
One romantic plotline that modern feminists might take issue with is Aria's relationship with Ezra Fitch—her smart, thoughtful, good-looking boyfriend who also happens to be a teacher at her high school. In a world where women are encouraged to feel sexually harassed when a guy sends them too many Instagram follow requests, Aria should be portrayed as a victim. But the young women in the "Pretty Little Liars" universe are too strong to feel victimized by their own decisions, and Aria's relationship with Ezra is depicted as difficult, confusing, even possibly a mistake, but never anything less than consensual.
Why did "Ravenswood" flop?
Did you know "Pretty Little Liars" had a spin-off series featuring Caleb? Maybe not—because it didn't survive past 10 episodes. "Ravenswood" was canceled after just one season and significantly wasn't able to hold a large audience even when it followed a "Pretty Little Liars" premiere. Of the 3.2 million who tuned in to watch Hanna, Spencer, Emily and Aria, only about half stayed to watch Tyler Blackburn and the rest of the cast contend with the curse that haunts Ravenswood.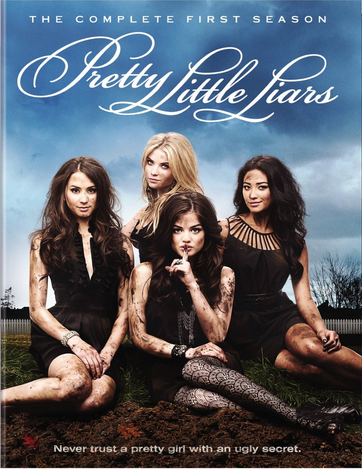 Credit: Amazon
"Pretty Little Liars" was just too tough an act to follow. Poor "Ravenswood" was set up for failure from the start because the force that drives "Pretty Little Liars" and its ratings success wasn't something that a spin-off depending on a male lead could imitate.
That's because the show's main strength isn't in the intricate mystery plotlines. Viewers simply looking for a good mystery can turn to "Sherlock" or "True Detective" or rewatch "Lost" on Netflix. Women don't watch "Pretty Little Liars" just for the secrets. We watch it for the girls.
Jordan Ecarma is a former journalist now living the millennial dream: getting paid for writing Facebook statuses (that is, digital PR). She watches her use of the f-word ("feminism") around conservatives and the c-word ("conservatism") around feminists. Find her under @JordanEcarma.