Is the Call for the DNC Chairwoman's Resignation Just the Usual Liberal Outrage—or Something More?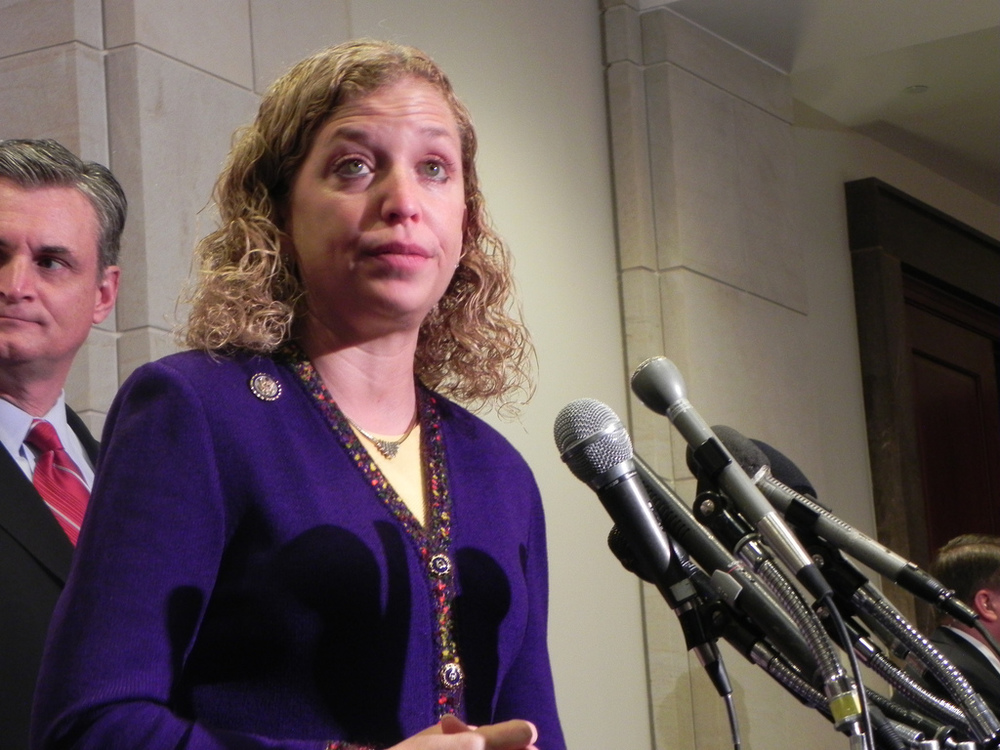 Credit: Medill DC via flickr
By JORDAN ECARMA
At first glance, the call for DNC Chairwoman Debbie Wasserman Schultz to resign for saying the wrong thing in an interview looks like yet another example of voracious progressive culture eating its own.  
"Here's what I see: a complacency among the generation of young women whose entire lives have been lived after Roe v. Wade was decided," Wasserman Schultz told New York Magazine—to be met with outrage from "grassroots progressives" in the form of a petition from Credo Action calling for her resignation.
"Young women, especially low income women and women of color, have been bearing the brunt of the right-wing's relentless assault on abortion rights and have been leading the charge to fight back," reads the petition, which had reached more than 11,600 signatures as of this writing (of a goal of 15,000).
"Wasserman Schultz's comment shows how out of touch she is with the progressive core values of the Democratic activist base, and is just the latest in a string of unacceptable actions that makes it clear it is time for her to resign as chair of the DNC."
(Sidenote: Apparently a woman who won't even say her own children were human before birth isn't passionate enough about abortion.)
But Wasserman Schultz's doubleplusungood comment only seems to be a spark that lit something already itching to burn. The petition starts with her "complacent" remark but goes on to cite her much larger crimes against the Democrat party, which include purposely scheduling Democratic debates at terrible times when no one will watch.
The DNC has additionally been accused of manipulating the 2016 election by blocking the Bernie Sanders campaign from accessing its national voter database after a Sanders staffer reportedly exploited a software error to access voter information collected by Hillary Clinton's team.
Sanders campaign manager Jeff Weaver told CNN, "The DNC, in an inappropriate overreaction, has denied us access to our own data."
DNC officials' decision to unilaterally block Sanders from the database only gave more evidence to the idea that the election is rigged as much as possible in favor of Clinton.
"In other words, the leadership of the Democratic National Committee is actively trying to undermine our campaign," Weavers said.
In a time when the GOP presidential contenders are battling it out to prove he or she is the least "establishment" candidate, it's intriguing to see similar rhetoric coming from grassroots liberals.
"Democratic leaders have considered replacing Chair Wasserman Schultz before," continues the petition calling for the "unacceptable" Wasserman Schultz to resign. "Now we need to show that she has lost the support of grassroots progressives, and needs to go."
From decrying lion hunting to getting a Hill staffer fired for comments on a private Facebook, liberal outrage can be a powerful machine. In a similar way, grassroots progressives have taken a catchy soundbite to employ as a weapon against Wasserman Schultz. 
Jordan Ecarma is a former journalist now living the millennial dream: getting paid for writing Facebook statuses (that is, digital PR). She watches her use of the f-word ("feminism") around conservatives and the c-word ("conservatism") around feminists. Find her under @JordanEcarma.