The Women Who Didn't March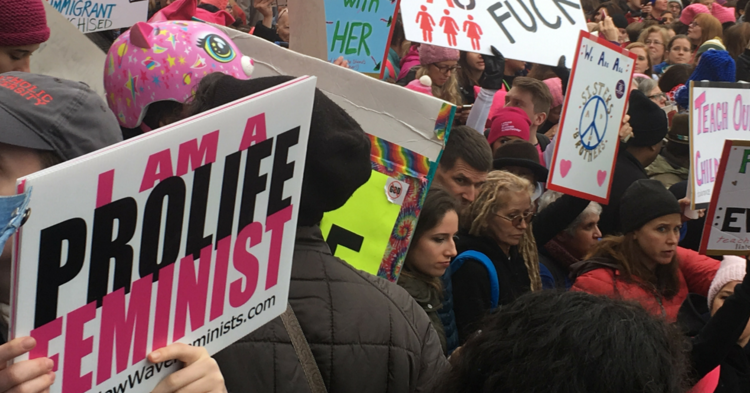 By J.D. ECARMA
Photos courtesy of KATE BRYAN
A few days before the historic Women's March on Washington, organizers decided to cut the partnership of New Wave Feminists, a Dallas-based nonprofit comprising women who identify as feminists and are pro-life.
The move was unsurprising, given that the march had partially been organized in reaction to an incoming president who during his campaign had dangled the carrot of overturning Roe v. Wade in front of conservative voters, alarming pro-choice advocates. But it was still a disappointment to pro-life women who call themselves feminists—another reminder that they are not welcome.
Our statement regarding press today: pic.twitter.com/z1y9cfFFvY

— Women's March (@womensmarch) January 16, 2017
Billed as counterprogramming for inauguration weekend, the march was made up of women who came from across the country to make their voices heard. The event inspired solidarity marches in New York, Chicago and Los Angeles as well as cities around the world. The sheer number of women who turned out to protest put the march in the history books—Nate Silver at FiveThirtyEight estimates some 3 million people across the country, making it one of the largest mass protests in U.S. history.
But I wasn't one of them, and I had a very specific reason for refraining.
I—along with many other conservative, libertarian and moderate women—have loudly and insistently opposed Donald Trump because of his racism, his cruelty, his frequent and unabashed lies, his record of cheating people, and his love for demeaning women (and his boasts about assaulting them), as well as for his sheer lack of knowledge about how our government works.
I am also pro-life.
I had many reasons to be part of the Women's March on Washington, to advocate for women and to protest someone who was elected president after a lifetime of treating them "like shit." But after organizers made it clear that their version of diversity didn't include pro-life viewpoints, I felt that participating would be a compromise of my beliefs. (As is clear from the pictures, Some pro-life women did choose to march anyway, and I respect their decision even though it wasn't the one I made.)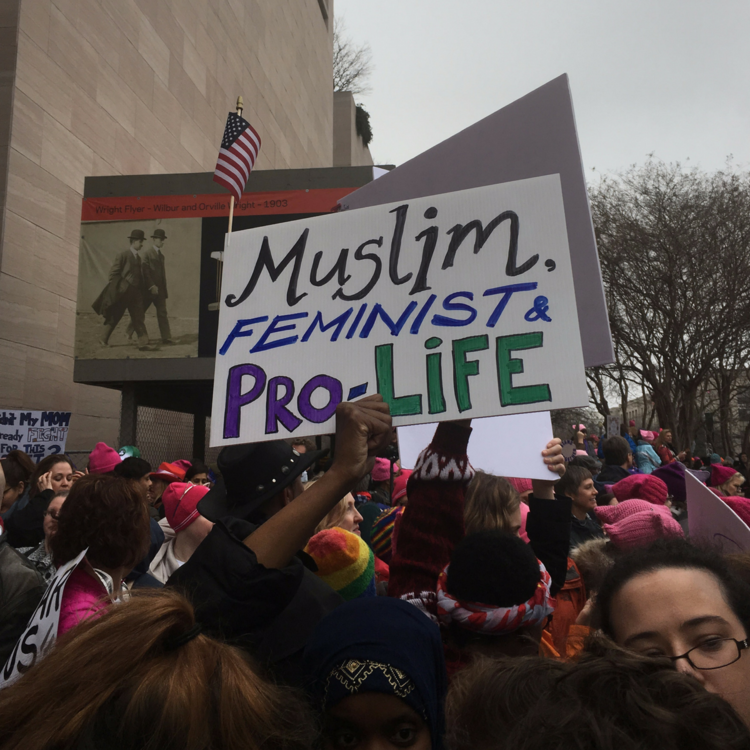 I'm worried about our country and the deep division that I see. I'm worried that voices like mine will be marginalized and silenced on both the left and the right as America becomes an even more polarized nation. The decision of the Women's March to be explicitly pro-abortion was the wrong one to make. Now, more than ever, you need people who are willing to ignore party lines in order to bridge the gap.  
The good news is that every day, I rediscover that I'm far from the only one trying to build those bridges. While struggling to make sense of my complicated feelings toward the Women's March, I reached out to some women who could empathize with my frustration*. Each of us is trying to reclaim feminism in her own way, and I hope the next time a movement of women wants to make a historic statement, we will be welcome to join.
Amanda Elliott, Arlington, Va.