Katniss Everdeen, Feminist Icon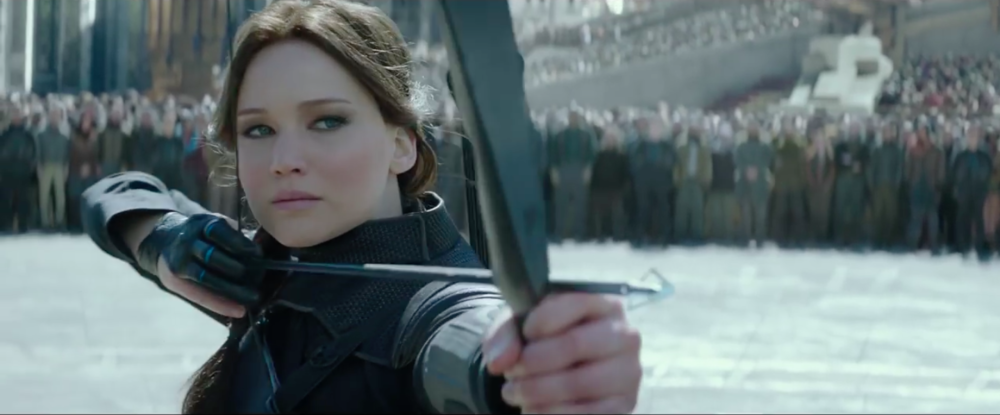 Credit: Lionsgate
By JORDAN ECARMA
This weekly column analyzing how women are portrayed in film is what happens when you're a conservative feminist who loves movies. Feminism often uses the Bechdel test as a metric: Does this movie have a scene where two women with names talk about something other than a guy? The point of the test is not "movies that pass this are feminist"—it's "this is the absolute base point of whether or not women are their own people in this movie." I attempt to go a little further each week with a deeper analysis.
The Girl on Fire. The Mockingjay.
The first female action hero with her own juggernaut franchise?
On the eve of the first "Hunger Games" movie release, feminist blog Jezebel asked a pressing question: Will The Hunger Games Be The First Real Female Franchise?
More than three and a half years and $2.5 billion in box office earnings later, it's safe to say that "The Hunger Games" did indeed become a franchise to be reckoned with, notching two movies in the top 10 opening weekend box office of all time.
"Mockingjay: Part 2" may have fallen short of the studio's box office hopes, but the fact that a film with a mere $275 million weekend haul was something of a disappointment shows how lucrative the Girl on Fire became.
But more importantly for anyone who has been watching the rise of women in film, Jennifer Lawrence's Katniss Everdeen left her mark as the first female character to carry an action franchise. Just look at the rest of that box office top 10—film franchises are basically always male-centric, whether it's the mostly boys' club of Marvel's "The Avengers" or Daniel Radcliffe as "Harry Potter."
We've had "Star Wars," "Indiana Jones," "Pirates of the Caribbean," (and the list could go on), all action-heavy franchises that include women but are carried by main male characters.
Katniss changed that.
(Spoilers, yada yada yada. Read the books already if you're that worried about it.)
The Mockingjay's fight started offscreen
Looking back, it seems obvious now that Suzanne Collins' stark, dystopian vision of children combating one another in an arena was box office gold, but the team behind "The Hunger Games" had to fight their own battle to get it on the big screen.
"Many studios just passed," co-producer Nina Jacobson told the New York Times in a recent interview.
And yes, one of the reasons cited by studios was the book's female lead.
"Kids killing kids, a young protagonist, female, and what's with the weird name?" Jacobson told the Times. "I had people saying: 'Couldn't you age up the characters? Can we make the love triangle more important?'"
Lionsgate, which had never before embarked on a film with the potential to be as large as "The Hunger Games," took a chance on Collins' novel and its unique heroine.
No Manic Pixie Dream Girl here
The Katniss character was revolutionary for her nuance, depth and departure from how women are typically portrayed. Yes, there's a love triangle, but Katniss is too busy to worry about it most of the time—she's focused on simply surviving. Her romance with Peeta in the first book and film is mostly contrived, all part of the games. Katniss is ruthless and manipulative when she needs to be. But she's also loving, warm, tender and protective—especially the last, since her intensely protective streak is a special key to her character. Katniss is a woman who defies trope; she's tough and has some wicked bow-and-arrow skills, but she's no Strong Female Character.
Katniss as a symbol of female strength
Not to give liberal feminism any ideas, but I have to wonder if someone somewhere is contemplating a think piece along the lines of "Why It's Super Problematic That Female Leads in Franchises End Up as Happy Wives and Mothers." First, we saw Bella of "The Twilight Saga" embrace her destiny of marrying Edward and becoming a mother. And now Katniss, first female action hero, concludes her epic journey in quiet fashion, choosing Peeta and having a family.
But the end of "Mockingjay: Part 2"—besides being accurate to the book—is only the natural culmination of the Katniss character, who represents special nuances of female strength throughout the series. Katniss acts as mother and protector to her young sister, Prim, taking their mother's place whenever she isn't strong enough.
When Katniss is still playing the games, she purposely exploits how we tend to view women as weaker and more innocent by pretending to be the wide-eyed girl in love who is no threat to President Snow. She is most gentle with both Gale and Peeta whenever one of them is hurting, something that triggers the tenderness hiding under her often taciturn surface.
"Mockingjay" concludes with Katniss as a wife and mother, a life where she and Peeta find peace and healing. Seeing Katniss content in this new life is a quiet celebration of this special realization of womanhood—the perfect last feminist touch for a groundbreaking franchise.
Jordan Ecarma is a former journalist now living the millennial dream: getting paid for writing Facebook statuses (that is, digital PR). She watches her use of the f-word ("feminism") around conservatives and the c-word ("conservatism") around feminists. Find her under @JordanEcarma.