Whatever Happened to the Screwball Comedy?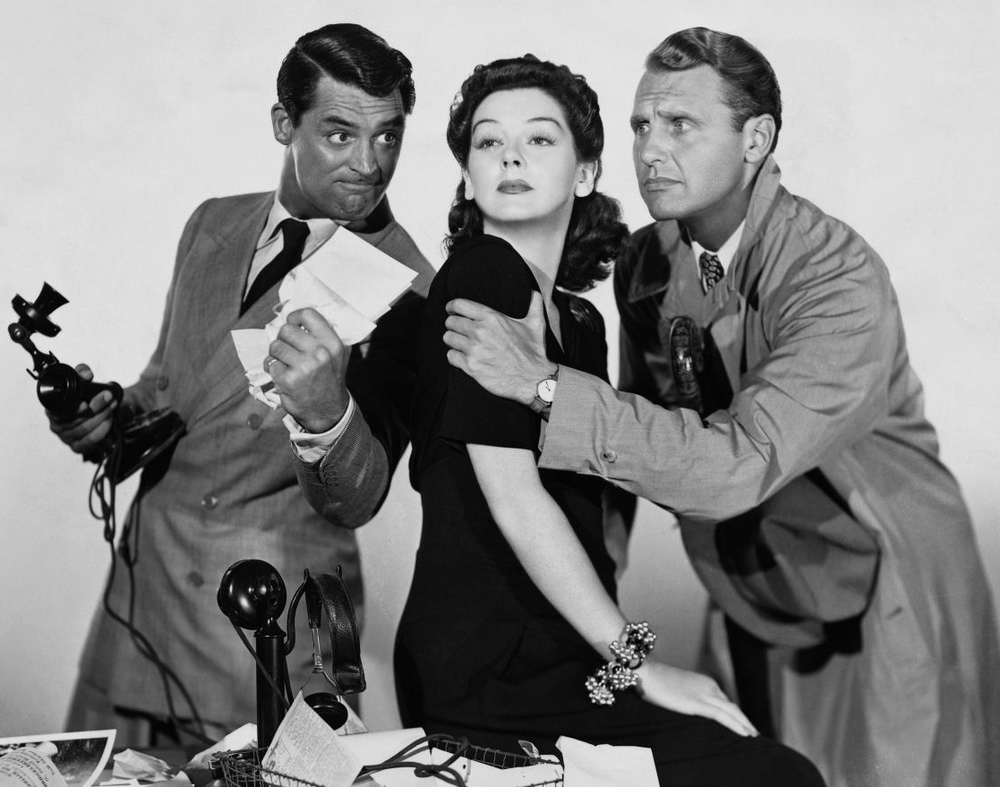 Cary Grant, Rosalind Russell and Ralph Bellamy in "His Girl Friday" (1940).
By J.D. ECARMA
In the wild world of the screwball comedy, exotic cats can bring unlikely couples together, dunking a doughnut can be a romantic experience and grooms can be swapped out right before the trip down the aisle as needed.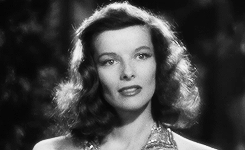 Katharine Hepburn, queen of the screwball comedy.
Popular during the Great Depression, the screwball comedy originated in the early 1930s and was a box office staple for about a decade. While short-lived, the unique genre gave us classic film moments including Claudette Colbert showing Clark Gable how to flag down a ride while hitchhiking in "It Happened One Night" as well as the zany perfection that is "Bringing Up Baby."
Named for a tricky pitch in baseball that batters can't predict, screwball as a rule explored the age-old battle of the sexes. A man and a woman alternately love and hate one another—their relationship often further divided by class differences—and communicate in rapid-fire quips with each other and a wacky supporting cast until the Hays Code-approved happily ever after. 
In a time when movies had to uphold "the sanctity of marriage and the home" per the Production Code, screwball flirted with the boundaries, taking audiences to the edge of propriety without going over it. Pushing the envelope with sexual friction fueled only by dialogue, screwball could be incredibly sexy … if it's true that less is more, the best screwball comedies were sexier than any nude scenes in films today.
The genre was also quietly feminist, driven by multi-faceted leading ladies who got to be funny, sexy, awkward, enchanting, tough, fragile, the girl next door slash millionaire socialite. Screwball gave us Katharine Hepburn alternating zany quirk and high-society charm … Barbara Stanwyck being tough, being wide-eyed, being sexy as hell as needed … Jean Arthur, Carole Lombard, Irene Dunne, Rosalind Russell. Ladylike ladies who got as many laughs as the men and never let the storyline put them in the back seat. 
A charming 2008 column in The Guardian detailed how much fun these actresses got away with during the short but vibrant screwball comedy age:
Women aren't supposed to be funny; we still find it difficult to deal with. Too much sexual humour and they appear sluttish, predatory. Too many gags, too many jibes, too much wit and speed, and they'll be mannish, vicious, threatening, when they're meant to be tender. More wit than that and – gawdhelpus – they'll seem clever. Women shouldn't take physical risks – that's upsetting; they shouldn't be too athletic, shouldn't lose their dignity or their grip; they're supposed to be nurturing and steady. Women shouldn't subvert themselves, enjoy their own sexuality or cause unrest. Which is to say, women shouldn't do anything at all involved in being funny. Leaden cultural norms make female comedy a tricky proposition even now; the screwball comediennes were breaking every rule in the book 60 and 70 years ago. They did it by sheer force of talent, and toe-to-toe with the leading men of the day.
Screwball as a genre essentially doesn't exist anymore, but once in a while the rare, exotic breed will surface in the wild. 
I'm still pretty sure I had a recent sighting while watching Cameron Diaz, Leslie Mann and Kate Upton's shenanigans in "The Other Woman" (2014). Misplaced in the "chick flick" or romantic comedy genre, "The Other Woman" lacks the rapid-fire wit of a Hepburn-Cary Grant classic, but it rides on zany, long-form comedy that involves an all-out war of the sexes as well as a hilariously enormous dog (recalling the vital leopard of "Bringing Up Baby"). Diaz plays straight man as the successful, together lawyer, while Mann as the wronged wife provides the quirk in her quest for revenge.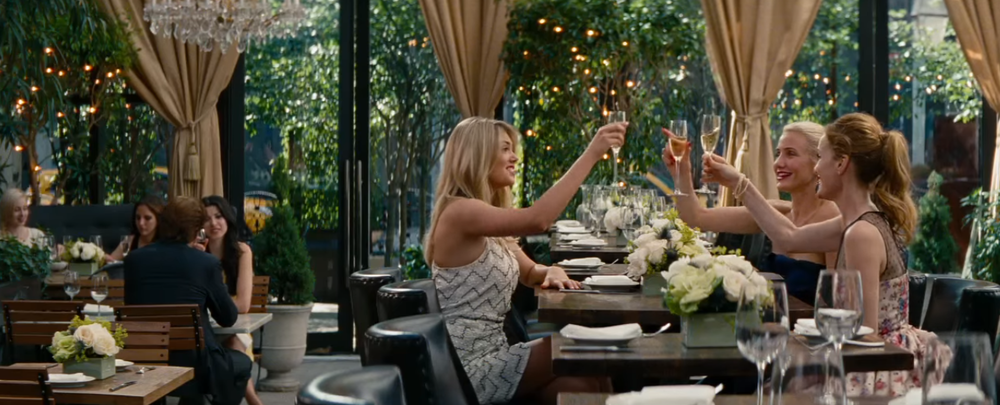 Credit: 20th-Century Fox
Screwball can be spotted elsewhere. Director Peter Bogdanovich set about making a modern screwball comedy with 2015's "She's Funny That Way," starring Owen Wilson and Jennifer Aniston.
"I love screwball comedies. I think they're wonderfully American. I just like the form," he told Entertainment Weekly in July.  
In another recent example, Greta Gerwig cited iconic screwball comedy directors like Howard Hawks and George Cukor as inspiration for her film "Mistress America," which features the breakneck dialogue and colliding subplots essential for screwball.
"Part of the pleasure of having a screwball sensibility was that you get to have all these fully formed crazy characters that just — you're suddenly existing with all of them at once," Gerwig told Indiewire in an August interview.
Jordan Ecarma is a former journalist now living the millennial dream: getting paid for writing Facebook statuses (that is, digital PR). She watches her use of the f-word ("feminism") around conservatives and the c-word ("conservatism") around feminists. Find her under @JordanEcarma.