Beyond the Bechdel Test: 'Pitch Perfect' (2012)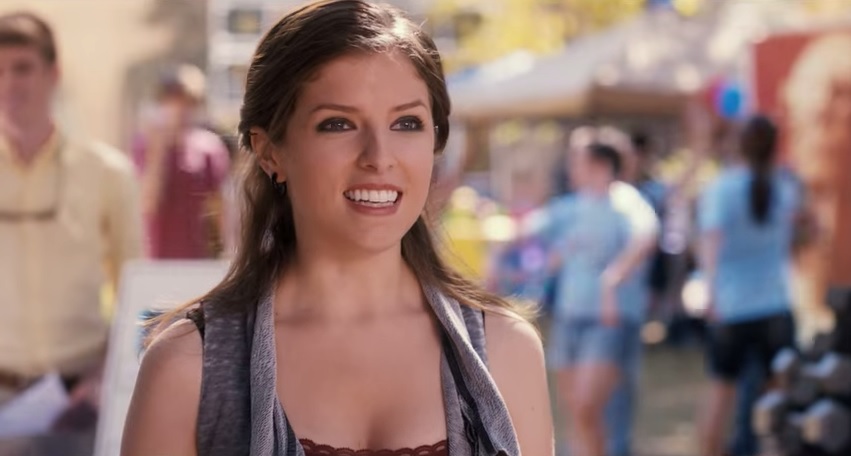 Credit: Universal Pictures and Gold Circle Films
By JORDAN ECARMA
This column is what happens when you're a conservative feminist who loves movies. The Bechdel test is pretty basic: Does this movie have a scene where two women with names talk about something other than a guy? The point of the test is not "movies that pass this are feminist"—it's "this is the absolute base point of whether or not women are their own people in this movie." I attempt to go a little further each week with a deeper analysis.
The film: Fresh, funny and feminist, "Pitch Perfect" was a sleeper hit about an all-female college a capella group that cost a mere $17 million to make and spawned a Billboard top 10 single (the charming "Cups" performed by Anna Kendrick). Sequel "Pitch Perfect 2" debuted over the summer, while "Pitch Perfect 3" is slated for a July 21, 2017 release date. Hollywood knows a good (read: lucrative) franchise when it sees one.
The conversation: "Pitch Perfect" is the rare film where a scene not passing the Bechdel test is the exception. So many women! With names! Having conversations about everything!
The real deal: A movie can't simply feature a full cast of women and call itself feminist. Compare "Pitch Perfect" to the box office flop that was "Sucker Punch"—a movie starring a cast of women, yes, but women who were playing stylized characters in what amounted to a male fantasy version of women.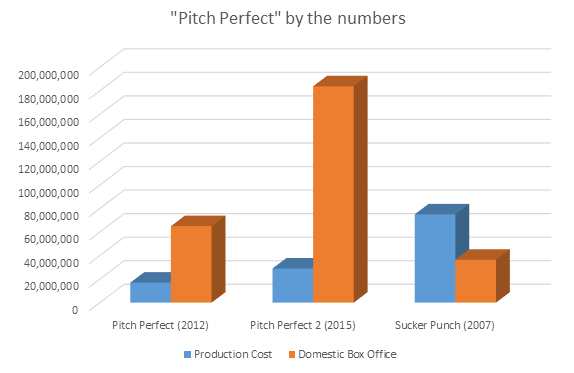 I couldn't resist including the sad, sad contrast that is "Sucker Punch."
"Pitch Perfect" has real women who can be funny, sweet, raunchy, pretty, disgusting, mouthy, determined, loyal, sexy … the full spectrum of human characteristics. Women who can wear delicately embroidered split skirts and perfect ponytails and also swear and even be gross onscreen. Women who can "look alternative" (Kendrick's pseudo-goth, eyeliner-heavy Beca) but end up developing through character redemption instead of a makeover. And most important of all, women who can (momentarily) make us believe that "Synchronized lady-dancing to a Mariah Carey chart-topper is not lame."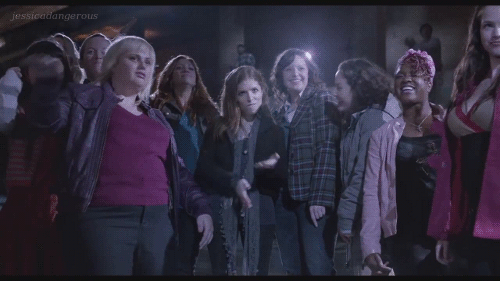 "Pitch Perfect" does stumble on the feminist front when it comes to portraying women of color. The defined, nuanced characters are all white women, with women of color only present in stereotypes or characters who are intentionally not given many lines. The sequel still didn't fill in this gap, so we'll see what "Pitch Perfect 3" has to offer.
At least the requisite romance in "Pitch Perfect" is subtly feminist, flipping a typical onscreen trope: the sweet, wholesome girl interested in a misunderstood guy. Here, Kendrick as Beca is the moody wannabe DJ flipping off the world while Skylar Astin as Jesse is the steady, sunny one whose cheerful outlook alternately intrigues and repels her.
But let's get two things straight: First, the most important relationships in "Pitch Perfect" are between women, specifically the ties that make up the Barden Bellas sisterhood. There's some friction over Beca's interest in Jesse, but it's a sidenote.
Second, Beca doesn't fit into any of the boxes presented by character tropes. She's two parts heroine and one part misanthrope with a large dash of the real-life Kendrick's wit, sense of irony and (reported) habit of swearing like a sailor.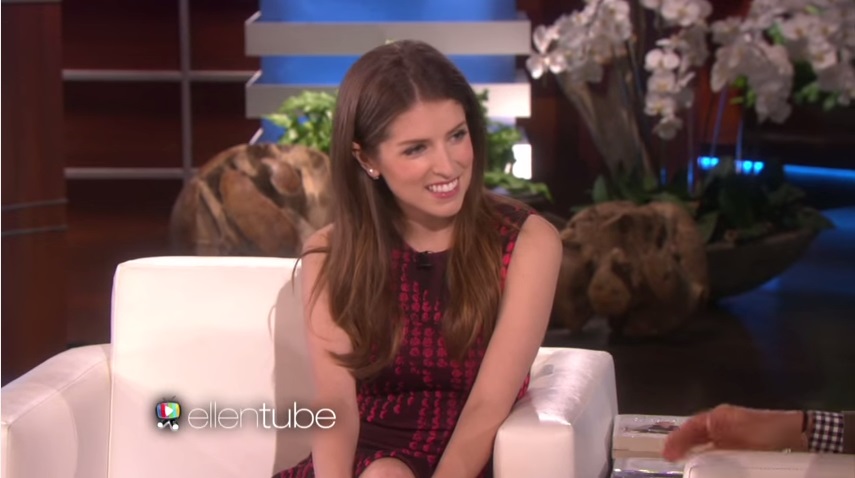 "I remember something in the air on the first movie where people wanted Beca to be more energetic and enthusiastic," Kendrick told the New York Times in an interview in May. "I told them that I just don't think we need to try that hard. I think when you try to create the ultimate cool-girl badass, people recoil. Just let people discover her."
And that's part of the magic of "Pitch Perfect"—its inherent, completely un-self-conscious feminism that lets the audience discover these women as they develop to be even more "aca-awesome" people. A feminism that can wryly play on sexism without sounding overly victimized. A feminism that never takes itself too seriously. Because the "Pitch Perfect" world already knows women are funny and fascinating; it's just here to show you what that looks like.
Jordan Ecarma is a former journalist now living the millennial dream: getting paid for writing Facebook statuses (that is, digital PR). She watches her use of the f-word ("feminism") around conservatives and the c-word ("conservatism") around feminists. Find her under @JordanEcarma.