A Christmas Gift Guide to LEGOs for Girls
By MATT SHAPIRO
One of my first pieces for Paradox was a detailed defense of LEGOs for girls, explaining why LEGO Friends are awesome and a huge benefit for the LEGO brand in general. With the Christmas season in full swing, I feel that it's a good idea to share from my experience how to get the little girl in your life excited about LEGOs.
Note: These sets can wander in and out of availability, so I apologize if anything on this list gets sold out or is otherwise unavailable. It speaks to the immense popularity of this kind of LEGO and how wonderfully successful they've been.
Also, of course … of COURSE… I'm not saying little girls *can't* love Star Wars or pirate LEGOs. I shouldn't have to add that disclaimer but there it is.
Getting Started
The best way to get started with LEGOs and young kids is to avoid the themed sets and stick with something that is a little more all-purpose. So start out with…
LEGO Junior's Princess Play Castle ($15)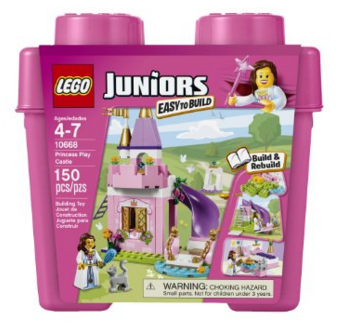 These sets have instructions to build more things than just the main set on the box. Also (protip) encourage them to take it apart after they build it. The key to LEGOs is creative construction and starting out with somthing that encourages constant re-building is the only way to go.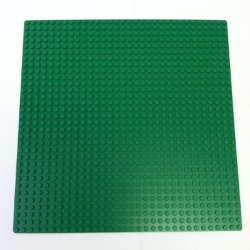 This might seem like a silly purchase, but it's actually a key component to creative play. Especially when the play involves a lot of characters doing things together, she'll want that extra space to secure buildings, figures, etc. A green plate can be grass. A blue plate can be water. And once you get her started, she will always need more space to build.
Cheap (under $15)
I'm always a little amazed how much you can get for so little with LEGO. I feel like this goes double for the "girls" sets (the Friends series and the Disney Princess series). This is because the most important components aren't the bricks themselves, but the characters and the accessories. The scenarios can be played out with very little to start with.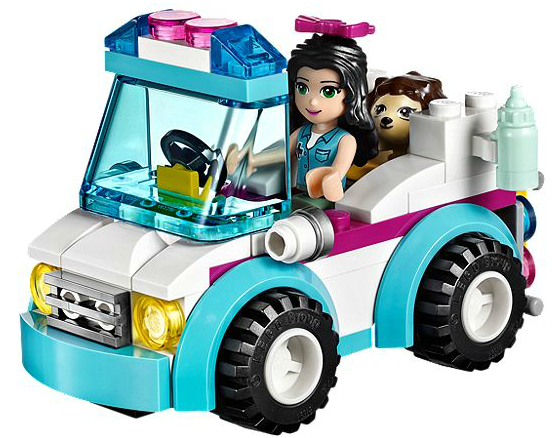 This is a great basic set because it has enough to play out a simple (and adorable!) relationship. A little pet ambulance with a vet and an injured animal. And it has a little pet stretcher, which is just ridiculously cute.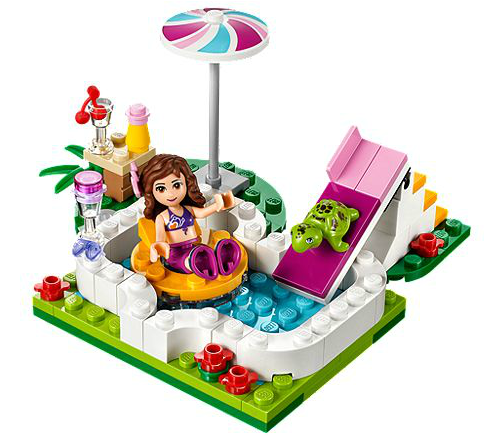 The garden pool is small but and important primer for the finer things in life. As far as I'm concerned, every little girl should be ready to make martinis and chill in the pool with her pet turtle. Combine it with the vet ambulance and you generate a drama-filled storyline in which the vet saves the turtle after an attempted back flip goes horrifically wrong.
Sleeping Beauty's Royal Bedroom ($13)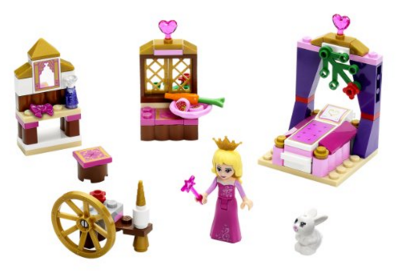 This is a great set to argue for the importance of the base plate above. Aurora's bedroom is a great beginner set because it has small components that can be assembled one at a time and arranges as she sees fit. If the builder is young (3 or 4) be aware that some of the smaller pieces can be hard on little hands.
Midrange (under $30)
The mid-cost sets are a little more flexible from the perspective of styles of play. Many of them feature multiple locations or rooms that can be combined or re-arranged.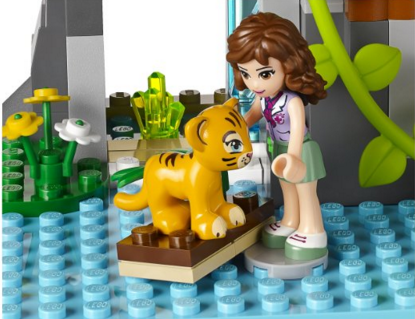 You may notice that there is a bit of a theme of LEGO people helping tiny animals. The Jungle Rescue is a bit of a step up in terms of complexity, but it brings with it moving parts, two animal friends and the first "dining" area (another common theme with the LEGOs for girls sets). This is nice in that it extends the versatility of the set.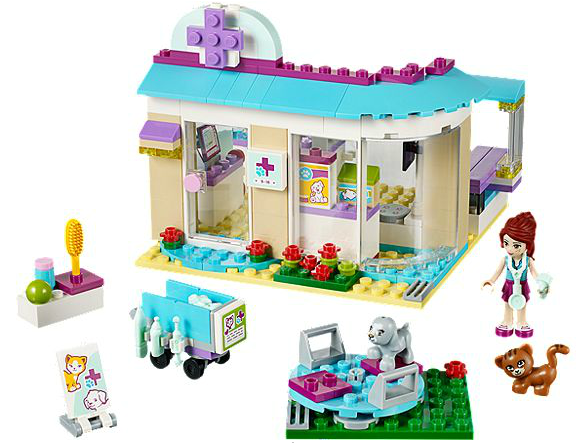 The accessories in this set really make it fun, including a set of "vet" tools that double as doctor tools if she wants to use them on the other mini-figures. This compact set includes an examination table, X-ray, stethoscope, a syringe, a bottle, a cleaning station and a little play-place for the animals. And it pairs really well with the pet ambulance.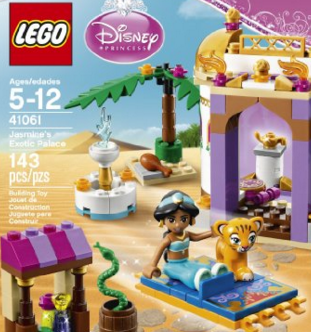 The magic carpet in this set has seen a lot of use in our house. LEGO cars must drive on the floor or table, but magic carpets can go anywhere. This is another set that benefits from the plate above since it has so many little components (fountain, bazaar stand, tree, palace structure).
I like to think that the bazaar stand is for teaching young girls how to steal from cranky merchants as Jasmine did in the movie.
Ariel's Magical Kiss ($25-$30)
I have a confession on this set: I wasn't excited when my daughter wanted it. I've always found the kiss scene in "The Little Mermaid" to be a little creepy. BUT! This is the first set on this list to feature a boy figure. I found this to be kind of funny: My daughter felt that her LEGO collection is incomplete because she has a half dozen mini-figures and none of them are boys. So … good for her for prioritizing diversity in her LEGOs.
As for the set itself, I like it mostly because it includes Sebastian the crab and the gazebo space is really pretty cool.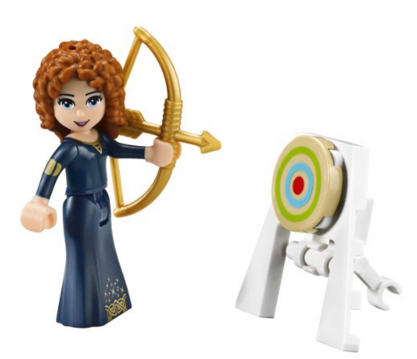 I love "Brave." It's up there on my list of favorite Pixar movies for many reasons, but the big one is Merida. I love the Merida character for her strong will, skill and development. So I love this set. It includes Merida and her three brothers (as bears, which is unbelievably adorable). The structure that can be built is only OK, but it has a catapult, which is a lot of fun for girls who like the idea of launching their brothers through the air.
Note: If you're interested in this one, get it soon. LEGO has retired this set, so there are a limited number left.
The Big Present ($30 – $50)
When we start getting into the $30-$50 range, the sets start getting bigger, often with multiple floors and multiple instructions books. My biggest recommendation for encouraging creativity is this: Once your kid is comfortable building the set, show them that the sets can be modular. Take the top floor off and put the top and bottom floors side-by-side. This is a great way to teach component construction concepts.
Stephanie's Beach House ($40-$45)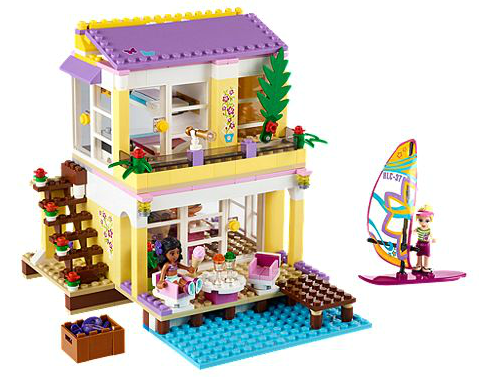 Moving into the larger items is a lot of fun, but my 4-year-old initially found them a little challenging. Stephanie's Beach House is a good intro to the larger sets because it is a little smaller and more contained than the other sets below. It works well as a full-function dollhouse, with a dining area, kitchen, TV area, and even a bathroom (a thing I have never seen in a LEGO set before).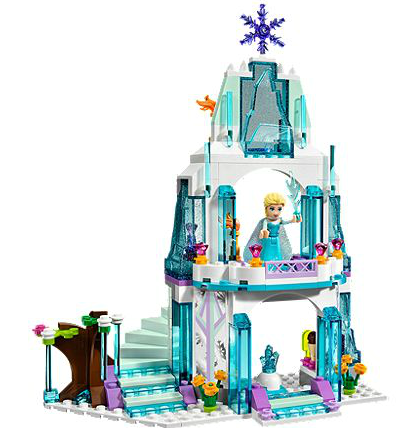 This is the first big set my daughter got because "duh." It's an interesting set because it relies on a lot of unique parts. However, I discovered Elsa's ice castle has an ice cream parlor, which was sadly not featured in the film. I also like that it has an Olaf figure that is basically an Olaf head with some other normal LEGOs. This helps kids realize that the mini-figures can be swapped with normal LEGOs (so Olaf's head can live on Elsa's body, which is a little creepy).
Rapunzel's "Creativity Tower" (prison) ($40)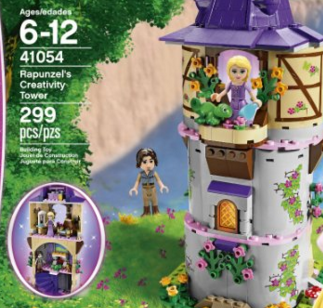 Yes, it's hilarious that they call Rapunzel's prison a "creativity tower" and this might not be my first choice for a larger set, but I am decidedly Team Tangled over Team Frozen and I like that it has a boy figure in it (especially since, if we're having a prince contest, Flynn Rider beats Eric of Milquetoast every day of the week).
Get It Yourself, Kid (over $50)
These sets are ridiculously large and I'd certainly recommend them for older kids. The counterpart is that the sets are incredibly expansive and LEGO packs a lot of bang for the buck.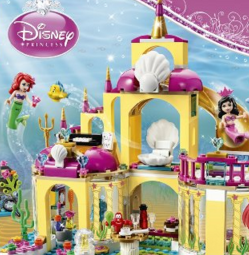 The most important part of this set is (obviously) the mermaid tails, which can be repurposed to create mermaid Elsa and mermaid Olaf. But it also features a lot of moving parts (trap door, spinning seats and beds) and important accessories like a piano, maracas, and a microphone*. When you get to this level of set, LEGO tends to just toss in a bunch of extra accessory-style pieces, so you get extra jewels, crowns, bows, that kind of thing.
* HOW DOES A MICROPHONE WORK UNDERWATER?
Emma's House ($70)
This set is humongous. Hu. Mongous. It has almost twice as many pieces as the Little Mermaid set above. Inside the house there are four rooms (living room, kitchen/dining room, bathroom, bedroom) and outside there is the yard / garden, and rooftop grill area. This is meant to be a family house (the other two figures are Emma's parents) so it lends itself to a lot of family dynamic character play. I encourage my daughter to put everything on one floor and play that Emma is patiently and lovingly taking care of her elderly parents as I attempt to align her expectations with the hard realities of a cold, unfeeling world.
Matt Shapiro is a software engineer, data vis designer, genetics data hobbiest, and technical educator based in Seattle. He tweets under @politicalmath, where he is occasionally right about some things.