'The End of the Tour' Is Another Reminder That All Is Vanity under the Sun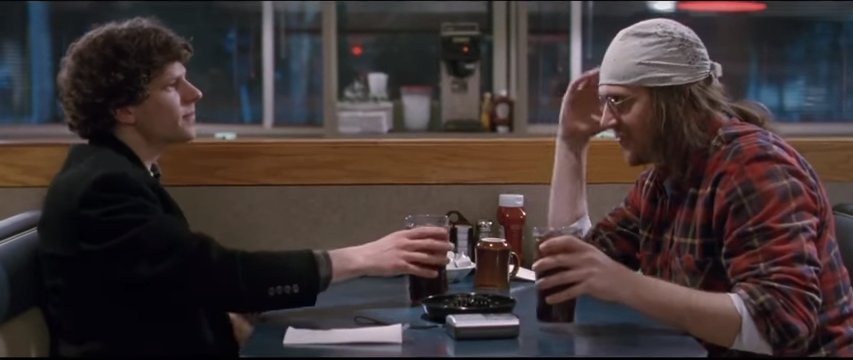 Credit: Screenshot/Anonymous Content and Modern Man Films
By J.D. ECARMA
"The End of the Tour" is a wistful, meandering look at the last few days of late author David Foster Wallace's 1996 Infinite Jest tour. Wallace (played by Jason Segel) has arrived—at least in the eyes of reporter David Lipsky, who wrote a book in 2010 about the road trip.
"He wants something better than he has; I want precisely what he has already," Lipsky (as played by Jesse Eisenberg) says in the film. Lipsky wants to be "the most talked-about writer in the country"—while Wallace simply wants to find purpose, something that success, critical acclaim and celebrity haven't been able to give him.
"The End of the Tour" on its surface seems to fire a shot or two at the American Dream. To Wallace, his 1,000-page novel is about "The question of 'why?' Why am I doing it? And what's so American about what I'm doing?" Wallace blames his generation's sadness on an "incredibly American life" that is ultimately empty. Pleasure, entertainment and achievement don't bring happiness, he tells Lipsky. People under 45 who are sad have realized "this sort of emptiness at the heart of what they thought was going on."
Segel's Wallace may as well have been talking about millennials when he despaired of a generation sated on entertainment, yet empty. He worries about what will happen when virtual reality is freely available as an entertainment source; when people have unalloyed pleasure at their disposal any time, will they ever turn it off?
The more success he finds, the more Wallace fears being a fraud. Lipsky has the opposite fear: failure. He thinks achieving what Wallace achieved with Infinite Jest will give him purpose. For the present, he lives with the millennial fear we've flippantly termed "FOMO" (fear of missing out).
There is arguably something unique in millennial angst, which mingles a "you can do anything" upbringing with an unprecedented array of choices when it comes to location, career and connectivity that can leave my generation paralyzed with indecision. We are the first generation to live in a world where everyone's life is public thanks to social media, the first generation that can ask Google or Siri to get any question answered, the first generation to think it's normal for technology to be an intimate part of your life. 
But Wallace's lack of purpose despite writing "the book of a generation" is hardly anything new and definitely not unique to millennials.
"The End of the Tour" uses a five-day interview from 20 years ago to give us a warning about our future. But it's mostly a reminder of something that has been and always will be—each generation will discover in turn that there is nothing new under the sun. 
 Jordan Ecarma is a former journalist now living the millennial dream: getting paid for writing Facebook statuses (that is, digital PR). She watches her use of the f-word ("feminism") around conservatives and the c-word ("conservatism") around feminists. Find her under @JordanEcarma.