Was Hillary Clinton Poor? No, New York Times, She Wasn't.
By ZACH NOBLE
On Aug. 10, the New York Times published a mini financial biography of Hillary Rodham Clinton. "Her family budget was tight!" the feature-y article seemed to say. "She's a sympathetic working mom, just like you!"
But the Times didn't adjust for inflation. It's as if they wrote a feature about basketball players but mixed up metric and U.S. measurements. "At 6'3″, Jeremy Lin figuratively towers over the two-meter LeBron James," such an article might say, leaving a casual reader to think Lin is taller than James. He is not.
It's dumb.
So here's the Times piece condensed, partially rewritten, and corrected with inflation statistics so that you, the reader, can actually gauge how rich or poor Hillary Clinton was. Clinton earnings throughout are from the Times' reporting, with bolded comparisons coming from the Bureau of Labor Statistics' handy calculator.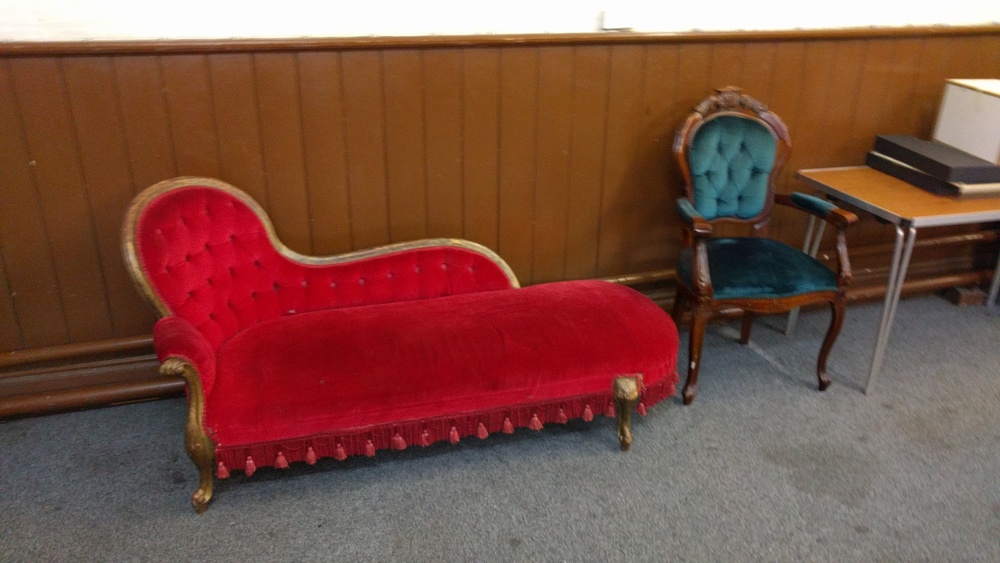 Mrs. Clinton's couch, probably. (flickr)
The Clintons Had an Ugly Couch One Time, But They Also Had Plenty of Money
LITTLE ROCK, Ark. — Hillary Clinton likes money.
It makes sense that she got into politics, then, because despite tired-and-inaccurate cliches about public servants being poor, politicking is a great way to earn cash; politics helped the Clintons make $50 million!
In her 1969 commencement speech, Mrs. Clinton denounced materialism and corporate greed. Then she dedicated her entire adult life to the pursuit of power and money.
When she moved to Fayetteville, Ark., and later married Mr. Clinton in 1975, the Yale Law-educated couple lived happily earning about $18,000 a year each in their positions as professors. The median U.S. household income in 1975 was $11,800. So the Clintons were earning well over the national household median each, making more than $160,000, combined, in today's dollars, and Fayetteville is a cheap place to live!
But Mrs. Clinton wanted more.
In 1978, Mr. Clinton became one of the youngest governors in the country, earning $33,519.14 his first year in office. Mrs. Clinton's income from the Rose Law Firm brought their combined wages in 1978 to $51,173.
By comparison, the median U.S. household income in 1978 was $15,060. Convert the Clintons' 1978 earnings to 2016 dollars, and we can see they were making the equivalent of $189,182. Good for them!
It's hard to believe anyone would depict them as "financially strained and deeply uncertain about the future" when Mr. Clinton was voted out two years later. He immediately picked up a new gig serving "of counsel" for $55,000 a year at the Wright, Lindsey & Jennings law firm. That's about $160,000 in today's money, and it doesn't include Mrs. Clinton's earnings over at the Rose Law Firm, where she was a partner.
Mrs. Clinton forged ahead with some shady financial dealings. In 1978, after a friend of hers made several million dollars in the commodities market, Mrs. Clinton jumped in and turned an initial investment of just $1,000 into $100,000 trading cattle futures in just 10 months. That's like turning $3,700 into $370,000 in today's money!
BUT, lest you think the Clintons faced no hardships, know this: They had an ugly house in 1980.
Friends described the décor as unsightly, a jarring departure from the governor's mansion.
"That couch just jumped out at me," said Bobby Roberts, a former aide to Mr. Clinton, describing a scarlet-colored Victorian chaise that Mr. Clinton's mother, Virginia Kelly, had lent them. "It was in some bright, violent color."
Despite the chaise-shaped cross they bore, by the time Mr. Clinton was running for president the Clintons reported $297,177 in total income on their 1992 tax returns — more than half a million dollars in today's money!
"When we moved into the White House, we had the lowest net worth of any family since Harry Truman," Mr. Clinton has said.
OK.
But they were still wealthy.
Zach Noble is a former journalist and current law student. He's been wrestling to reconcile his bleeding heart Catholicism with his pragmatic libertarianism since that freshman year love affair with Ayn Rand. He tweets erratically as @thezachnoble.