The Best Thing We Could Give the World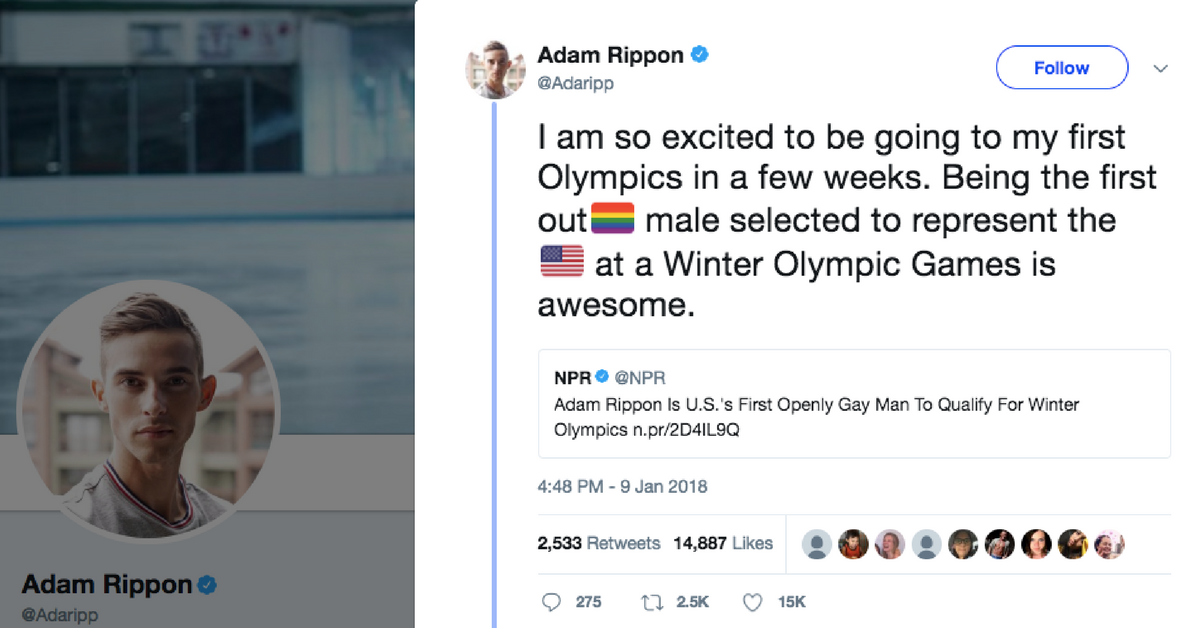 By J.D. ECARMA
It started with a journalist's meddling, as far as I can tell.
In an interview last month with USA Today, U.S. figure skater and Olympian Adam Rippon kicked off a feud with Vice President Mike Pence over what Rippon perceived to be the politician's stance on gay rights.
"You mean Mike Pence, the same Mike Pence that funded gay conversion therapy?" Rippon said in response to the choice of Pence to lead the Olympic team to South Korea. "I'm not buying it."
When asked if he would meet with Pence given the opportunity, Rippon said he "would absolutely not go out of my way to meet somebody who I felt has gone out of their way to not only show that they aren't a friend of a gay person but that they think that they're sick." (One has to wonder what kind of journalist was asking these questions.) He followed up later with a Twitter thread reiterating his dislike for Pence.
Freestyle skier Gus Kenworthy, another openly gay Winter Olympian, doubled down on the story with an Instagram post of him and Rippon with the caption, "Eat your heart out, Pence." Such stuff as culture wars are made on.
First of all, what exactly is "gay conversion therapy"? It's something of a catchall phrase that people employ to refer to anything that's been used throughout history to force someone to resist or eradicate same-sex desires, including discredited and dangerous methods such as using electric shocks and other forms of physical abuse to "cure" sexuality. In extreme examples, children are forced to undergo conversion therapy sessions with a counselor, but in some cases, it may simply mean that an adult is talking to a professional about a struggle with his or her sexual desires in a religious context. (After all, not every single gay person decides to act on those desires, especially if he or she is devout. Straight religious people who remain single and celibate live similarly.)
Pence has long been dogged by the report that he favors "gay conversion therapy" and fought for the practice to receive government funding. For the record, the report stems from his congressional website in 2000; the now-archived site said (in the context of a U.S. law directing funding to fight HIV/AIDS), "Resources should be directed toward those institutions which provide assistance to those seeking to change their sexual behavior."
Modern discourse being what it is, people usually jump to the most extreme interpretation: Mike Pence supports electrocuting people for being gay. That version has no basis in fact, but Twitter wars have never been deterred by inconvenient facts.
Also, it is bad journalism to just let Rippon's claim "Pence funded gay conversion therapy" to hang out there as a he-said, he-said, as if it's up for debate. The claim has repeatedly been debunked.

— Gabriel Malor (@gabrielmalor) February 7, 2018
To his credit, Pence answered by following in the footsteps of a president … and not the one currently watching "Fox & Friends" in the Oval Office.
Pence tweeted a specific message to Rippon: "I want you to know we are FOR YOU. Don't let fake news distract you. I am proud of you and ALL OF OUR GREAT athletes and my only hope for you and all of #TeamUSA is to bring home the gold. Go get 'em!"
His response reminded me of the president I grew up with, one who never would have gotten on Twitter to blast every person who criticizes him. Like President George W. Bush, Pence seemed to realize that punching back at someone who is ultimately so much less powerful than he is would only make him look weak.
What else did you see in this story, yet another Rorschach test of the culture war?
I saw a reminder that America is still free.
Do you know what happens in North Korea if you whisper to a neighbor that it seems unfair for Kim Jong Un to be well fed and your family hungry? Did you realize their sunny cheerleaders are applauding their hearts out because their families will be imprisoned and possibly tortured if they don't? Have you heard about what Egypt does to people who wave a rainbow flag or dance "suggestively" in a music video? We rally on Facebook to urge people to vote or call their lawmakers, and sometimes we're scared or alarmed or upset because we care, but in China, they can't get on Facebook to begin with.
Here in America, we're so free that one of our Olympians told off the vice president in front of the entire world, and no one really cares. This story barely registers with everything else going because we're so accustomed to being able to speak our minds, even when we happen to be speaking about the second most powerful person in the country.
In a way, the "Adam Rippon vs. Mike Pence" story is the best thing we could have given the world, a reminder that we live in the bright future that is 2018 here and not the dark ages that still keep so many people around the globe in despair. We are a country unafraid to give gay athletes every opportunity to represent us on the world stage, and in fact, we are proud to present them among our best and brightest. Even when they diss the vice president.
While it's not the quote you saw in headlines, Rippon also told USA Today that he didn't see any need to protest the administration during the Olympic Games and that he valued the opportunity to represent America.
"I will continue to share my story, but I will participate in no form of protest," he said. "I'm representing myself and my country on the world stage. I have a lot of respect for this opportunity. What makes America great is that we're all so different. It's 2018 and being an openly gay man and an athlete, that is part of the face of America now."