Super Tuesday: Everyone Has a Reason to Say #NeverTrump. What's Yours?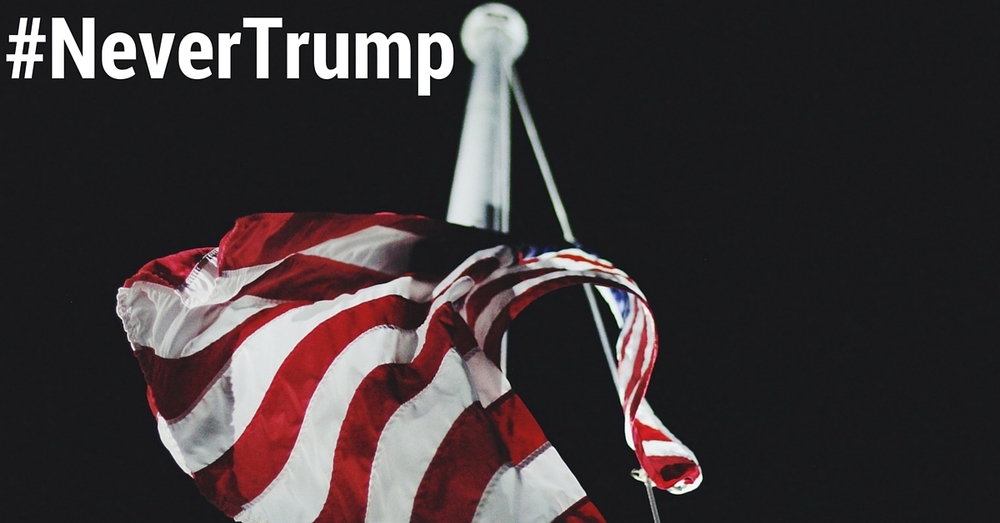 The 2016 election cycle has reached a new insane that somehow feels remarkably sane: a revolution of conservatives the likes of which we have never seen.
But just saying the word "conservative" doesn't mean much. We should start describing ourselves so much better than that.
We are people who want you to be able to say your opinion without worrying that you'll get sued (or worse) for it.
Trump threatening news outlets: "We're gonna open up those libel laws folks and we're gonna sue you like you've never been sued before."

— McKay Coppins (@mckaycoppins) February 26, 2016
We are people who will fight for your right to live out your religious beliefs in peace, whether you're an evangelical Christian or a Catholic or a Muslim or a Jew or anything else.
Reminder: The GOP frontrunner wants to ban Muslims, exploits tale of shooting them with bullets dipped in pig blood https://t.co/O5r9EhRtjM

— Mark Follman (@markfollman) February 24, 2016
We are people who will respect you and scorn anyone who questions your personhood or status as an American.
Trump: "Who do these brown people think they are, thinking they can run for President of the United States?" https://t.co/b0MpQlnGX1

— Leighon Chocker (@LeonHWolf) February 21, 2016
My God.
This is Trump implying that the judge in the Trump U. case is against him because the judge is Hispanic. pic.twitter.com/lpjJJkOUqp

— Benny (@bennyjohnson) February 27, 2016
And we are standing #AgainstTrump for the good of all Americans, even the ones who don't necessarily believe everything we do.
That's why there have been hundreds of thousands of tweets with the #NeverTrump hashtag. We are calling on Americans to turn back before it's too late.
Sad truth for which he overcompensates: At the core of Donald Trump is deep, pitiable insecurity. I'll pray, not vote, for him. #NeverTrump

— Guy Benson (@guypbenson) February 27, 2016
Everyone needs to know that conservatives are making this trend … #NeverTrump pic.twitter.com/92IpXIaKnZ

— Paradox (@PRDXproject) February 27, 2016
This election is like nothing in my lifetime & I don't plan on making excuses to my kids for supporting someone like Trump #NeverTrump

— Political Math (@politicalmath) February 27, 2016
The party serves me; I do not serve the party. Principle is always more important than power. #NeverTrump https://t.co/ncBAe2L2l0

— jon gabriel (@exjon) February 27, 2016
Because of every tweet you get from a neonazi Trumpist mocking the children you adopted #NeverTrump

— David Freddoso (@freddoso) February 27, 2016
So proud of my friend @marcorubio joining #neverTrump. I hope my friend @tedcruz joins us too. https://t.co/4LZPbQELP8

— Erick Erickson (@EWErickson) February 27, 2016
#NeverTrump because if a Democrat is going to destroy the country, they should at least admit they are a Democrat.

— Ben Howe (@BenHowe) February 27, 2016
.@benshapiro dismantles the myth that @realDonaldTrump is a truth-teller. https://t.co/pl90tw1RAJ #NeverTrump

— Andrew Klavan (@andrewklavan) February 27, 2016
You see what's happening here @Reince? I know it's largely out your control. But you better take note. #NeverTrump

— Dan Joseph (@DanJoseph78) February 27, 2016
#NeverTrump because https://t.co/AuccjbGOyT

— Rick Wilson (@TheRickWilson) February 27, 2016
Donald Trump will never be the nominee of the party of Lincoln and Reagan. #NeverTrump

— Marco Rubio (@marcorubio) February 27, 2016
Whatever happens at the polls, conservatives are not going down without a hell of a fight.